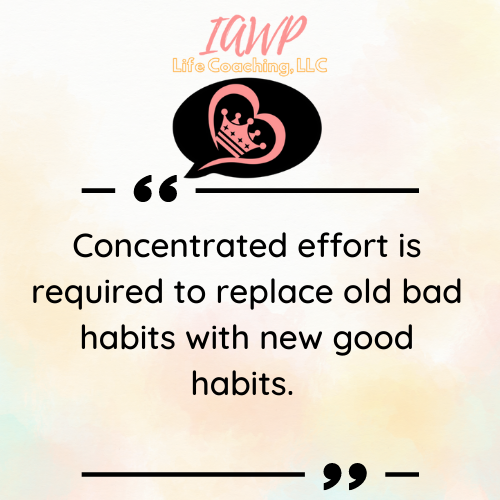 Greetings, beautiful souls! It's Wintress Patrice here, your certified NLP Life Coach and the proud founder of IAWP Life Coaching LLC. Today, I want to discuss something immensely important. I want to break down the profound wisdom in the quote, "Concentrated effort is required to replace old bad habits with new good habits."
Habits, whether good or bad, are the unsung heroes of our daily lives. They influence how we think, act, and even how we perceive ourselves and our place in the world. The adage "you are what you repeatedly do" is incredibly accurate, and it emphasizes the power that habits hold over us.
Changing these habits, especially the ones we've held onto for years, isn't an overnight affair. It requires concentrated effort, patience, and most importantly, self-love. This concentrated effort is the ultimate key to unlocking our potential.
Now, I want you to ask yourself: What are some old habits you'd like to replace? Do you wish to cultivate more positive self-talk, increase self-love, or commit to practicing self-care? Maybe all of them? If so, know that you're in the right place, and this journey towards transformation is one we can embark on together.
Positive self-talk is a game-changer, my friends. It molds our subconscious mind, influences our behavior, and ultimately reshapes our life. By incorporating positive affirmations and messages into our daily routine, we're actively choosing to foster a healthy mindset.
One significant benefit of positive self-talk is improved self-confidence. As you begin to talk positively to yourself, your confidence starts to grow. You start to believe in your capabilities and push beyond the boundaries that once held you back.
Another advantage is stress management. By speaking kindly to ourselves, we can reduce the stress and anxiety often associated with negative self-talk. This change leads to improved mental health, which translates into a healthier, happier you.
Let's talk about self-love. It's the cornerstone of personal growth and the fuel that drives our journey towards self-improvement. Self-love isn't just about feeling good about ourselves; it's about respecting our worth and taking actions that reflect this respect.
Self-love teaches us to set healthy boundaries and prioritize our well-being. When we love ourselves, we become more resilient and capable of handling life's challenges with grace and poise. We learn to celebrate our achievements and forgive our mistakes.
Practicing self-care is an act of self-love. It's about honoring our physical, emotional, and mental health. By making time for self-care rituals, we are signaling to ourselves and the world that we value our well-being.
Season 2 of the QTO – Queen Talk Only Podcast is now streaming, with new episodes every Sunday morning. In it, we dive deeper into these topics and explore personal growth stories from everyday queens and kings just like you.
I'm inviting you to join me on this podcast. Your journey, your insights, your triumphs over adversity – they all matter. So, reach out to me at 267-571-6689 or email [email protected] to schedule your interview. Let's join forces and inspire others with our collective wisdom.
Your support means the world to me. If this article resonates with you, share it with someone who could benefit from it. Spread the love and the message of empowerment, because we are all in this together.
Remember to visit www.WintressPatrice.com and schedule your free 30-minute Zoom consultation. This consultation is an opportunity to discuss your goals, challenges, and how we can work together to transform your life.
Lastly, make sure to follow me, @WintressPatrice, on Facebook, LinkedIn, and TikTok for daily motivation and inspiration. Engage, comment, share, and be a part of this thriving community committed to personal growth and positive change.
In conclusion, remember that the path to transformation starts with a single step. So, take that step today. Replace those old habits with new ones, harness the power of positive self-talk, and practice self-love and self-care.
Let's unlock your potential together with IAWP Life Coaching, LLC. Together, we are on a mission of "Empowering Lives, Transforming Futures."
With all the love and light,
Wintress Patrice