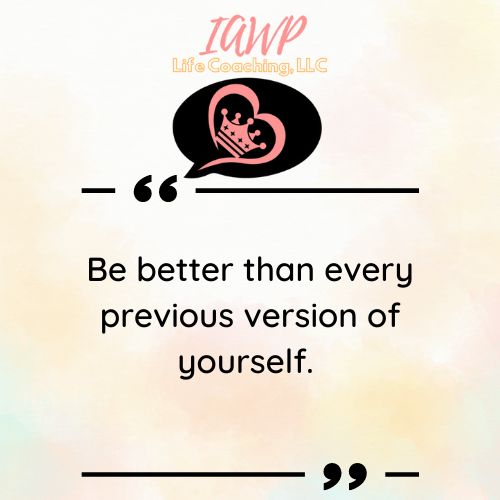 Hello Beautiful Souls, Queens & Kings. I'm Wintress Patrice, your Certified NLP Life Coach and the proud Founder of IAWP Life Coaching, LLC. I am here to discuss a powerful concept that is essential to our individual growth and collective empowerment. The concept, put simply, is this: "Be better than every previous version of yourself."
Every day, we are gifted with the magnificent opportunity to become a better version of ourselves. This journey is not about competition with others; it's about challenging our former selves and striving for continual improvement. It's about acknowledging that the most crucial competition we face in life is against ourselves, our old habits, our fears, and our insecurities.
Understand that each version of ourselves is like a stepping stone on the path of self-discovery. Each step we take, each lesson learned, each blessing received is an integral part of our life journey. Every triumph and defeat, every joy and sorrow, shapes us, molds us, and ultimately propels us forward.
Recognizing and celebrating the lessons and blessings that come with growth is essential. We must be grateful for the wisdom that each past version of ourselves imparts. Each version is a teacher and a guide, providing insights and experiences that equip us to navigate life with grace and resilience.
When we lean into our growth, we are practicing the highest form of self-love. By acknowledging our past selves and learning from them, we express our commitment to personal development. This is the essence of self-love—valuing ourselves enough to strive for growth, transformation, and the realization of our highest potential.
Through this continual process of self-improvement, we position ourselves to live more wholly. This means embracing every facet of our being, celebrating our uniqueness, and living in alignment with our authentic selves. This authenticity, the courage to be true to who we are, is what empowers us to walk our unique path with conviction and purpose.
My Beautiful Souls, IAWP Life Coaching services are dedicated to supporting you on this transformative journey. Whether you are just embarking on your self-discovery journey or experiencing challenges along the way, I'm here to guide and empower you. You're invited to schedule a free 30-minute Zoom consultation on my website, www.WintressPatrice.com, to get started on your journey to becoming your best self.
Also, I encourage you to follow @WintressPatrice on Facebook, LinkedIn, and TikTok for regular updates and daily doses of inspiration. Share this message with your circles on social media and feel free to drop a comment below. Your feedback and experiences enrich our collective growth journey.
In addition to life coaching services, I also host the QTO – Queen Talk Only Podcast: Embrace Your Crown, Empower Your Reign! 👑✨ Now streaming Season 2, it's designed to empower you to step into your full potential and live a life of purpose, confidence, and self-love.
We cover a broad range of uplifting and inspiring topics, including self-love, motivation, overcoming obstacles, and building strong relationships. Our conversations delve into what it truly means to be a queen or king and how to reign with purpose and confidence in all areas of life.
If you have a story to share, a victory, a growth journey, or simply insights to offer, your voice matters. Reach out to me via text at 267-571-6689 or email at [email protected], and let's schedule your interview. Your story has the power to inspire and empower others, so claim your spotlight today!
Beautiful Souls, remember that every new day offers the gift of becoming a better
version of yourself. Cherish this gift, lean into your growth, and walk in your purpose. This journey is one of self-love, personal growth, and authenticity. Continue to shine, embrace your crowns, and empower your reign!
With love & light,
Wintress Patrice