"When you take care of yourself, you're a better person for others. When you feel good about yourself, you treat others better."

Solange Knowles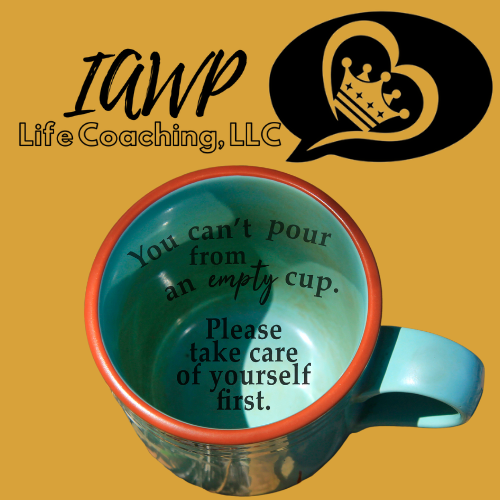 Hello beautiful souls,
Wintress Patrice here, Certified NLP Life Coach and proud Founder of IAWP Life Coaching, LLC. I am delighted to welcome you back to our enriching community where our aim is to nurture your growth and empower you to be the best version of yourself. As always, remember: you are the key to your transformation.
I want to start off with a quote from Solange Knowles that truly resonates with me: "When you take care of yourself, you're a better person for others. When you feel good about yourself, you treat others better." This quote is a beautiful reminder of the reciprocal nature of self-love and care, and its impact on the world around us.
You see, it's nearly impossible to pour from an empty vessel. This is a simple, yet profound truth about life. Just as you can't fill a cup from an empty jug, you cannot give love, kindness, or support to others if you have not first given them to yourself. This underscores the vital importance of self-love and self-care.
Here at IAWP Life Coaching, we're passionate about fostering this sentiment. Our services are designed to inspire and assist you in the journey towards self-love, self-care, and overall personal growth. We know that when you nurture and take care of yourself, you are in a better position to offer the best of you, not just what's left of you, to others.
We offer a range of services, including personal one-on-one coaching, group sessions, workshops, and even online resources, all tailored to help you discover your unique path to well-being and self-fulfillment. Our NLP (Neuro-Linguistic Programming) techniques focus on understanding how your thoughts and feelings can influence your behaviors. We use these insights to guide you in creating positive changes in your life, helping you to replace limiting beliefs with empowering ones.
Our coaching will provide you with the tools to foster self-love, enhance self-esteem, and cultivate a positive mindset. The journey of self-improvement is continuous, and having a life coach like an ally can make a significant difference.
Remember, investing in your wellbeing is not a luxury—it is a necessity.
Now, I encourage all of you beautiful souls to explore our offerings on the IAWP Life Coaching website. Do not hesitate to reach out for a consultation. Let's embark on this transformative journey together.
Moreover, I invite you to engage with our vibrant community. Please, share your thoughts, stories, and achievements with us. Don't forget to hit the "Like" button if you find our posts inspiring, share them with others to spread the positive energy, and save them for your daily dose of motivation. Your participation helps us grow and create an impact.
Join us on our social media platforms, and don't forget to follow @WintressPatrice on Facebook, TikTok, and LinkedIn. We frequently share motivational content, wellness tips, success stories, and more. Your journey towards self-love and care should never be a lonely one; let's take these steps together, empowering each other along the way.
Thank you for taking the time to read this and for being part of our journey. Remember, you are deserving of all the love and care in the world. Keep this in mind as you move forward.
Sending you all light, love, and blessings,
Wintress Patrice
xoxo